Business solutions
Our services connect to solving real word problems where people need to connect in a 3D world using Virtual Reality. You can apply our solutions to collaboration, co-creation, coaching, training, therapy, artistic expression or games. Our business solutions are often tailor-made, but we use a collection of components that support Social VR that we share across business solutions. This allows for quicker and more efficient development.
Base VR Applications
For a number of application areas we have a base VR application: Collaborative Design, Coaching/Therapy, Museums, and Dans. They can also be used to create your own more tailor made solution. 
VR Collaboration lab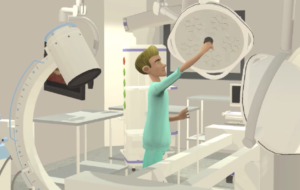 Using an online connection you can allow you to safely collaborate at a distance, saving travel time and costs. Co-creating a space and it's content can be a difficult task.  Designers can face challenges in sharing their vision with stakeholders just using a 2D screen. That is why we help by bringing models to VR. There you can walk around, add objects, move them and figure out how you would like to organize your space together.
This can help organize workspaces from offices, stores, and exhibit booths to operating rooms and factory floors.
VR Body lab
This is a multi-user playground that people can use for coaching and therapy. Play is a powerful tool to let people interact with each other, a safe space to try out behaviour,  users might otherwise feel inhibited to try out. This can help open up new possibilities to activate people and create interventions.  It can also be used to provide sessions with participants at different locations.
VR Museum lab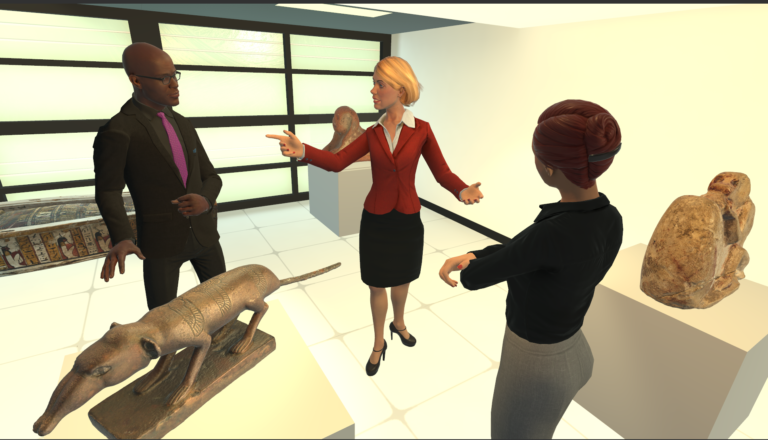 We provide a platform to create expositions that are accessible inVR and on a 2D screen. With a digitized Museum Collection of scanned objects you can create virtual expositions, showing more of your collection in new ways.  Creating a virtual exposition can be more interesting if you can do this together, or even collaborate with others remotely from different parts of the world. Our tool allows you to share insights and stories by creating virtual talking guides.
Within VR you can easily save your virtual exposition and share them with others later.
VR Dance lab
Dance lab is about moving your body in VR, and creating new forms of dance. Sometimes this is on your own, sometimes with others. We provide tools to record and create multiple copies of the dansers avatar moves in real time. We also allow the dansers to create multiple avatar copies that mimic their moves in real time. A key difference with motion capture is that the dansers are present in VR together and have a first person viewpoint of their creations and each other. We don't stick to just human avatars, we have a selection of non-humanoid avatars as well.
We are also experimenting with shared embodiment, where you can control a body together.
Have a look at some of the Projects we have done.